#Lokpa to Namrung (Lower Mansalu)
#AllyAdventure
We came all the way to Lokpa and were moving upwards. So the region from Nyak to Namrung is known to be Lower Manaslu. While we were passing from Nyak, we were walking in a sequential manner. I had mentioned earlier that Ally had a distinct way of walking, looking down, holding her bag's strap with her hands and walking.
This habit of hers led us to another adventure of our trip.
As we walk past Nyak, Deng arrives. We were meant to have lunch at Deng. We were approaching the lunch point. There came two ways, one that leads upwards to some village we didn't know and the other way headed downward that looked like a dead end but it wasn't. It actually led to the lunch point.
We were checking on one another and walking. It just took a matter of seconds, for Ally to take the wrong way. She mistook the lunch way as a dead end and she took the other trail, we knew nothing of.
We were headed towards the lunch point. We didn't know that Ally was lost. We reached the lunch point. Ram ordered the food, we were all ready and eagerly wanting to have some food. But Ally was nowhere to be seen. I asked, "Where's Ally?"  It had already been about ten minutes we had reached the lunch point.
I went on to search for her. Looked around and came back. I couldn't find her.  Ram and I went together to search we reached a bit further but didn't find her. It was an uneasy feeling to accept that I was afraid. There was the river flowing on the right side. All sorts of things started to coming to my mind. Ally mentioned that morning that she had a stomach ache. I had told her to wait until lunch point and if it aches remains I'd provide her the medicine. She was good with it.
We couldn't find her so I told the team about the situation. The food was served. We had lost our appetite. Ram said he would not have the food he would rather search for Ally, he asked for a bottle of water.
I was panicking. There were lots of questions I was asking and also telling a lot of things to myself. The stress and tension was clearly visible on my face. I started to scold myself, how could a person walking along behind get lost? Being a Team Leader I had to collect myself. I couldn't hide it; the stress was all over my face.
I asked Ram to look for Ally. The doubt I had in my mind was, if Ally walked to the village side through the trail she took, we could still ask the villagers. But what if, she took the other trail where there were no villages but just woods? Lots of things started to run through my mind.
We couldn't halt our trek, we had to move. I convinced Kelsie and Dave to proceed with the trek.  I convinced them that Ram will look for Ally and arrive with her to our next destination.
We stopped at Pewa that night from Nyak. It was a very cold situation. Not really the climate I'm talking about here but the circumstances. It was already in the evening. Pewa is surrounded by jungle. A very small place and had only three hotels. I had hurt my leg. The pain was really bad.
Dave was reading a book. As he gets over with a page he would look if Ally had arrived with Ram. It was the kind of a passport situation with Dave. It looked like a doomed situation. I actually forgot the immense pain I was going through in my leg for some time. But the pain wouldn't rest just as yet.
I asked the hotel owner to boil some water. The region is so remote that just to boil water it would cost you a thousand Rupees. I had to be calm, I had to treat myself and I had to look for Ally too. I poured some salt in it. I got a piece of clean cloth, soaked it in the hot salty water, squeezed the towel and pressed it against the spot where I had the pain. After I had done it for five to six rounds, it started to feel better.
I was a science student. This thing that I did was called sodium retention. Something that I learned while I studied came to practice. Since the jungle was dense it'd get dark by four in the evening. No one had arrived yet. I got a feeling that Ram was lost too.
The situation was such, I couldn't readily leave the guest. I asked the porter, Sanjay to go look for Ally and Ram. I gave him a torch so that he could see in the dark. I told him that if he doesn't find them to return back. Fifteen to twenty minutes later I hear Sanjay's voice calling my name and saying Ram has arrived.
As I listened to these words, I felt encouraged and uplifted. I rushed towards outside of the hotel. I saw all three Sanjay, Ram and Ally. I felt such peace within me. I sat on a chair with relief. It was such a good feeling to be out of stress finally. I felt super light. I couldn't define my happiness.
I felt it was my fault because of which Ally lost her way. I couldn't face her. Ally went towards Kelsie and hugged. Ally was in a state of shock. She was lost for the whole day.
Later I asked Ram what had happened. Ram hadn't had any food. All he had was a bottle of water. A local told Ram that no one walks this path which he was at searching for Ally. Ram was literally shouting out Ally's name within a few seconds. It was in the evening that when Ram called out her name, she finally answered! I had coordinated in the morning that we would be meeting in Pewa, so Ram came to Pewa after he had found Ally. Everything got settled it was a happy moment.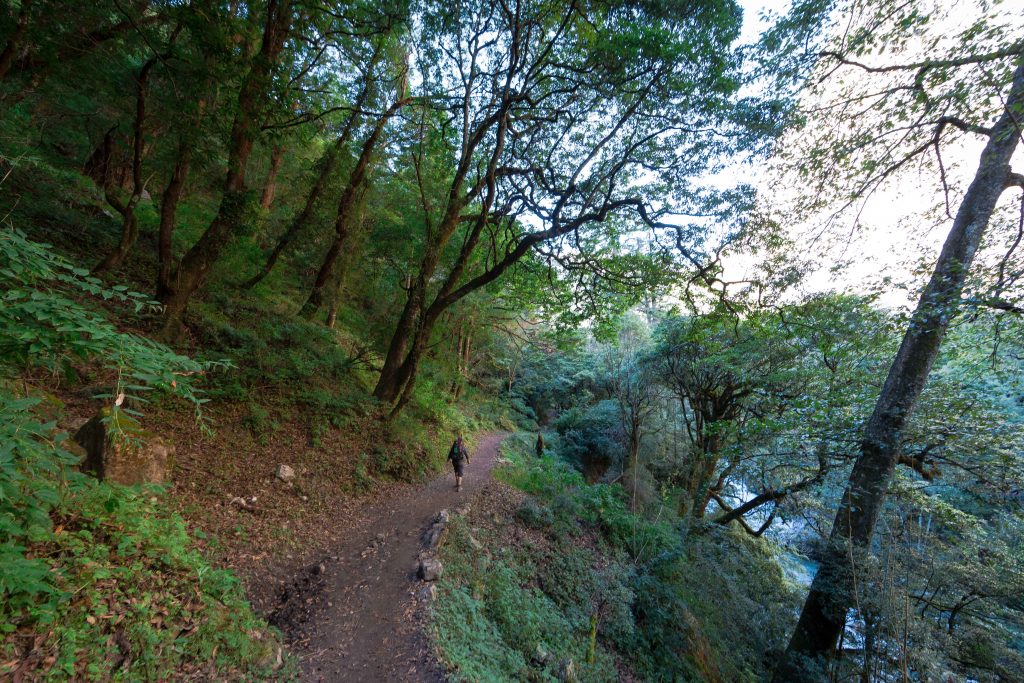 #My Birthday – Headed to Gumba Lungdang
Here's a fact, I am mostly out of the town during my birthdays. It's on the 12th November. It had really been a long time I celebrated my birthday in Kathmandu. There was network issue so I guess probably my parents were trying to contact me but couldn't.
Since it called for a celebration Kelsie had ordered Pizza that night. The result of which showed up the next morning. She had food poisoning. We had the medication, food poisoning is one of the often could happen scenario. I asked the team to be ready with their luggage. It was wooden house where we were staying at. I was coming down the stairs. Naturally the sound would come of me when I would be coming down the stairs.
I see Jimmy, Shalom, Dave, Ally, Sanjay and Ram. They were standing right in front of me and started singing, "Happy Birthday to You!" It was early morning and I hadn't expected this. They turned the table. We wouldn't be getting cake in this region, turns out they had prepared this amazing apple pie. They asked me to cut the pie, I said let's wait for Kelsie. Kelsie, she came holding her stomach. She hugged me and wished me a happy birthday.
I cut the apple pie and gave it to all the members of my team. I had a piece too. It was morning sweetness, good for energy. I asked my team, "All Good?" They replied, "All Good". We headed towards the next stop.
The trail to the next stop was smooth. Deng was two hours from Pewa, where we were. We crossed Deng and headed further. The trail as mentioned was smooth. No uphill just chilled air. The only sad part was Kelsie's stomach. Since she had to frequently go to the loo, I let Sanjay carry her luggage. I carried the bag that had her camera and the gear. We walked all the way to Bihi Phedi and stopped for lunch. We headed to Prok.
The trail to Bihi Phedi was smooth. The way to Prok wasn't as smooth rather we had to ascend. While on the way to Prok, I had bought chocolates a few days back. I was distributing it with the kids I met along the way.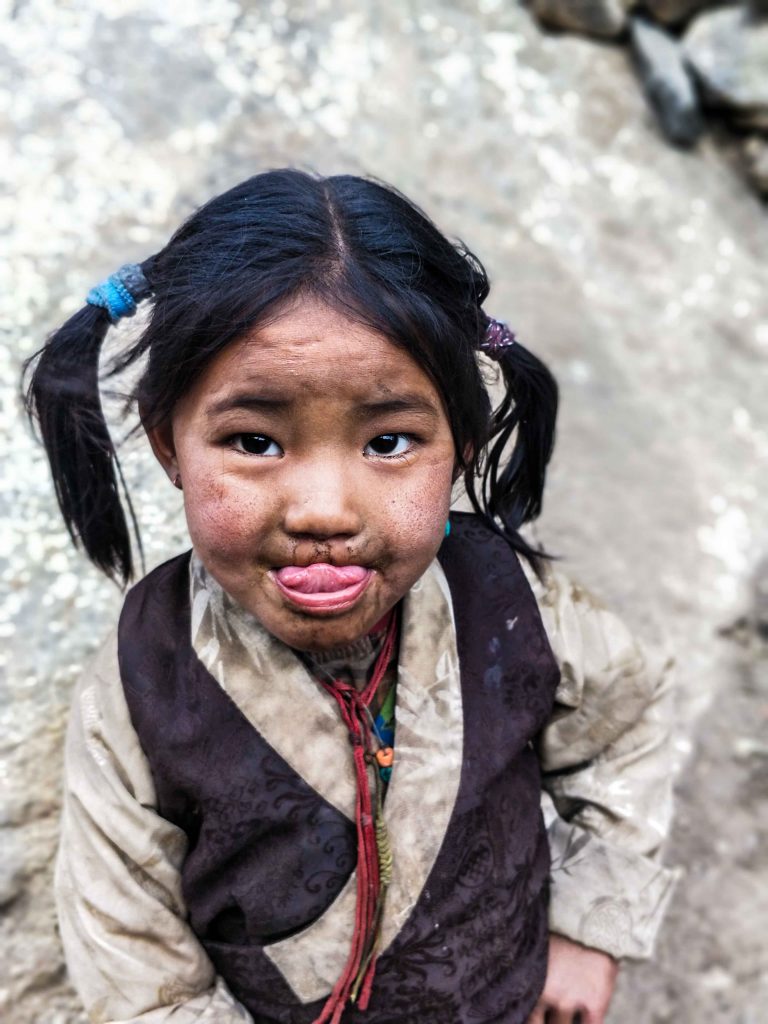 It was a struggle to reach Prok. We reached at around 4pm. Prok to my surprise was a flat barren land. There were houses. A community basically. Ram went on to search for a place to stay. Jimmy and Shalom took out the drone and flew it. They took a few shots.
We got a place to stay. We settled down. I told the team that tomorrow is going to be a rest day. We were staying at Prok for a day.
I said there are side trips we could make tomorrow and come back to Prok. The ladies weren't interested. They said they want to sleep. It meant that it would be all boys trip. At Prok we came to know that for the side trip we were planning to take, we had to take a guide.
That was the policy of the place. It was their way of income. The guide was a teen age girl. We continued with the trip.
#The Side Trip
We got up next morning. Packed a few boiled eggs and headed for a trip to Siringi Himal. Looking at the map, we saw a lake. The name of the lake was Kalchuman Lake basically known as Kaal Taal (Death Lake). I tried asking the locals about the story behind the name of the lake, they couldn't say either.
While heading to Kaal Taal, Dave and I had a conversation. It was a good talk with Dave that day. We talked about life and perspective, Cool Dave.
We reached Kaal Taal, took a rest for a while. Took a sunbath and were enjoying the view of the lake. It was probably 1pm in the afternoon, that Dave wanted to have a swim. Dave took a dive but somehow he hit a rock and cut his chin. We saw what happened. Dave continued to swim.
As he came out of the lake, the blood had washed away. We had a tape with us and gave it to Dave. We descended to Prok. It had started to get dark. It was probably 5pm. When we reached Prok, Ally and Kelsie, had washed their clothes. Kelsie took a bath too she said. I'm not quite sure about Ally. Like I mentioned earlier she was very much into conserving nature. She didn't waste paper, plastic or water.
#The Sherpa Story of Everest
The place where we stayed at Prok, had an open kitchen. There was another group as well. There we met this veteran Sherpa guy. He had summited Mount Everest for 13 times apparently. He was probably in his late forties. We came to know he wasn't a trekking guide really but a professional Mountain Peak Climbing Guide.
He told us about the earthquake scenario as well. There had been an incident where a lot of Sherpas and tourists had lost their lives at the Everest Base Camp when the earthquake struck. He was there too. He had lost 14 of his friends. Because of his friends, his life had been saved.
That day he had to use the restroom so he requested his friends, even though he was behind a couple of people and got in, as he was in the restroom the avalanche had occurred due to the earthquake. When it stopped and he got out, none of his friends were alive.
Therefore, he had left mountain peak climbing and was into trekking these days. He used to say trekking is just wandering around villages and nothing else. It was a good conversation and a really moving life experience from the Sherpa man we got to listen to.
We had an amazing dinner. We savoured for whatever was available. We had a good sleep.
Written by Jai Pradhan