Part 3
#Tsum Valley (Jagat to Lokpa)
As we reached Jagat, Tsum Valley's trail began. We officially enter into Tsum Valley, Lower Tsum Valley. We were headed to Lokpa. It's not an easy trail. In order to do this trail, one actually needs at least 2 months of training. Proper workout, gym, basically preparing the body.
Lokpa is a very remote area. We came across wooden bridges that weren't in a good condition. The scenery was full of hills; we were yet to see the mountains. There was this bridge constructed by the Swiss or Swedish people, I'm not sure. It's attached to the hill on the right, it's really long. There was no trail before the bridge was made.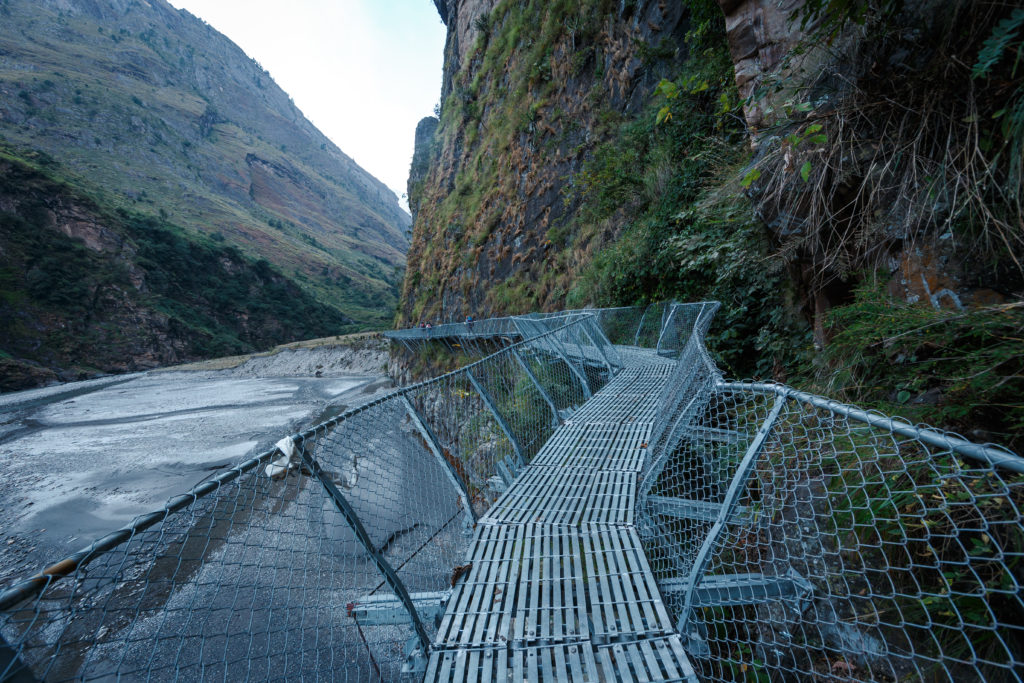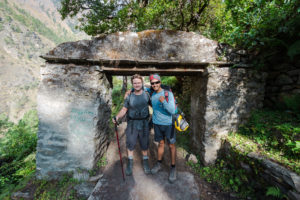 Jimmy and Shalom flew the drone.The wind force was such that the drone got into the bushes. I was ahead and heard about the drone. We had to get the drone stuck up in the bushes down under any circumstances. Jimmy literally climbed up the hill and recovered the drone. The trail was so steep that now I wonder how did he do it?
While we were on the way to Lokpa we didn't see many people. Not many people lived in the region. As we reached our destination, I took a bath. It was really cold but couldn't resist not having a bath for four days and the constant walk. By the end of the day, we could sight the mountains.
On our way we saw houses with stone walls, something that you don't get to see so often these days. Lots of waterfalls, stone carvings, lush pine trees.
While we were about to have the dinner, Kelsie had enough of daal and bhat (Rice and Lentil Soup). We Nepalese thrive on it at least two times a day, every day. Dave had already done the Annapurna Trek so he knew daal and bhat was the ritual. Ally was okay too. She'd spent her time in India and she knew daal bhat as Thali. The place was such that no one could actually complain. The trail was very tiring so Dave and Ally were off to sleep.
Kelsie started to work on her camera. She actually planned to shoot that night as it was pre planned for a full moon night. I accompanied her. We had a talk and she explained why she was so passionate with photography. She was a science student, a bright one yet she was travelling and fueling her passion keeping the academic aside. She took the night lapse and we were off to sleep.
#Lokpa to Ripchet
We were at such place where not many locals didn't speak Nepali. They communicated in their local language. We met a lady. She spoke Nepali, English and Tibetan. She said she visited Kathmandu once, fourteen years ago. She never wished to visit Kathmandu again. She ran a hotel there. She also sold some biscuits, noodles that was brought from Tibet which was just across a hill on the other side. As remote was this side of the hill, the other side of the hill was just the opposite. It had well-built infrastructures.
I had a good long chat. I also bought some noodles and chocolates from her.
#Lokpa to Chhokangparo
Chhokangparo was another place that was well looked after by the locals. Though remote yet it had amenities which the other places near to it or the region we were at didn't.
-Milarepa Cave (Piren Phu), the side trip
While we were headed to Chhokangparo, I had a look at the map. I saw this cave called Milarepa Cave. When we got there, the person there told us that Milarepa was actually before Buddha. I mean that's what the person who opened the door of the cave told us. It's usually locked. This cave is also known as the pigeon cave as there were many pigeons in it.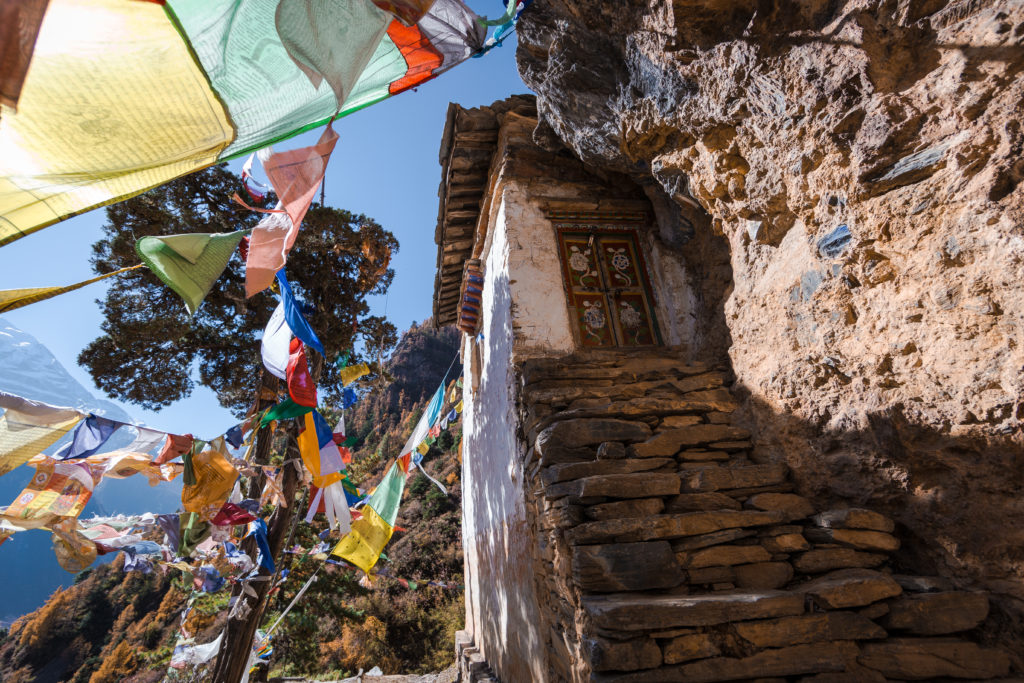 The painting and the colors in the cave even though located in the remote area was amazing. It was so artistic. Alongside the cave there was the footstep. Footstep of Milarepa so to understand. The cave had cracks though. It was in a sad state.
#Chhokangparo to Niley (Upper Tsum Valley)
From Chhokangparo we headed to Pangdung, where we stopped for lunch. We headed for Niley.
-The most interesting part
I met this guy called Nawang or Namgyal I'm confused with the name, owner of Niley Guest House. According to him, Tsum Valley is world's cleanest and the most peaceful place. He claimed it had zero crime rate. If anyone is caught committing a crime they are made to light a thousand candles. That's the first part of the punishment. Secondly, they are hit on their naked back with a thick stick several times, probably a lot times. Third, they are choked and are taken around the locality. Meat is forbidden in this place.
I was craving for meat but then I dropped the idea. Kelsie and Ally were vegetarians. But Dave wasn't, he was craving for some meat. We were on daal bhat and clarified butter. Dave was okay with it too. The place we were at had restrictions and we had to abide by it.
-Yarsha story
So the owner of Niley Guest House is a young family guy, from a well to do family. He was probably 35 years of age. The point beyond Niey is Mugumpa, which is the last destination of Tsum Valley. Beyond Mugumpa the Tibet region starts. In between Tibet and Mugumpa, comes the story of Yarshagumba.
The main trading element there is Yarshagumba. He (the owner) spilled almost everything he knew about Yarshagumba. How difficult is it to get Yarshagumba, the struggles behind it. The loss of his friends while pursing Yarshagumba. The one reason he's made his fortune is because of Yarshagumba.
None of his family members are here in Nepal. They are in the States(USA). He's here because, he thinks he can do something really meaningful staying in Nepal.
We wanted to document this, we asked him (the owner of the Niley Guest House) if we could, he was okay with it. He asked for some time. Later he was dressed in his leather jacket, white shirt and he even sprayed perfume just for the interview. That was cute yet a funny moment.
Mostly I noticed only ladies during our trek, wherever we stayed. I asked where the men or man of the house were. They said it was the time of Yarsagumba, so they've gone to get it. Since Yarshagumba wasn't as easy to get and involved a lot of risk, most of them went to Tibet to import goods. It took them around four days to reach there though it was on the other side of the hill. In between they'd rest in the jungle. They take the local livestock (horse, cow) with them to get the goods. The life was really hard for the locals in this region.
For further details of Yarsha Story check the documentary link below https://www.youtube.com/watch?v=GBcMIjPMu-c&t=305s
Written by Jai Pradhan.