The Route
We headed out. It was the regular route. We were on the Prithivi Highway. I knew in order to get to the Annapurna Circuit we had to take the Besisahar, Lamjung Route. I use to travel often to Pokhara and Kathmandu since my childhood. I use to see this bridge and wonder where it leads to. The vehicle we were in headed that very way.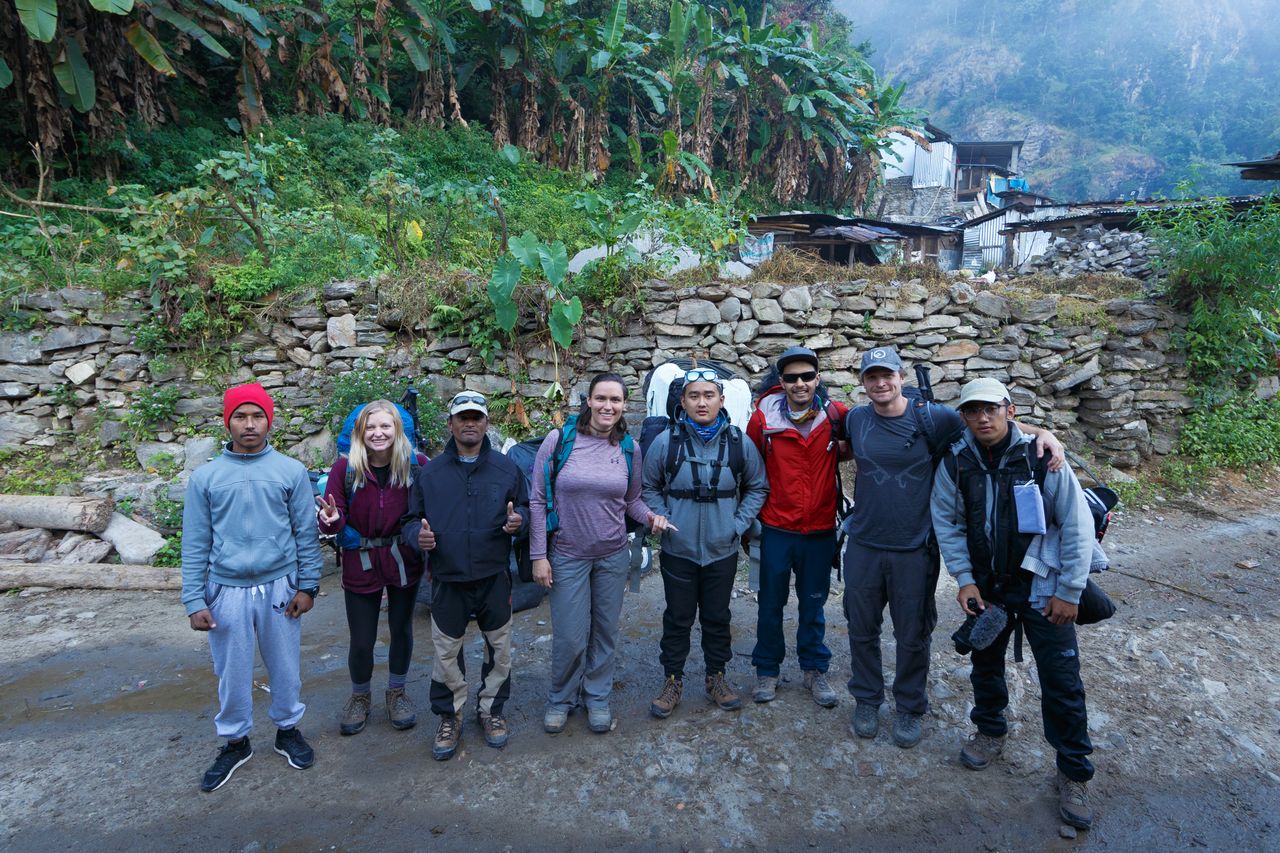 "From Left to Right, Sanjay(porter) Ally, Ram(Guide) Kelsie, Shalom, Rajat, Dave, Jimmy."
It's the Dhading Besi bridge. From there along the way leads to Gorkha Bazar and then leads to Arughat Bazar. We stopped at the lunch point finished it and we headed on. Sometime later we reached Soti Khola. It was almost evening. We unloaded the bags. We didn't waste much time, we stayed at the one of the two hotels we looked at.
Now, Dave had this book with him called the Sepians. It's about evolution of humans. I'm currently reading it too. It's a very good read. Dave referred me this book.
The Trail
The trip had begun. Now slowly yet steadily the connection and chemistry was building up. Day one was travelling day and from the second day it was all but trekking.
We were heading to Machha Khola from Soti khola. After you cross a pass, there comes a huge long bridge. It was a suspension bridge. It moved like crazy and many foreigners aren't use to it. At least not the ones who aren't use to trek. Kelsie and Ally had their first experience with. Dave was well acquainted with it as he had already experienced it before. Dave was a cool guy. We even named him as Cool Dave.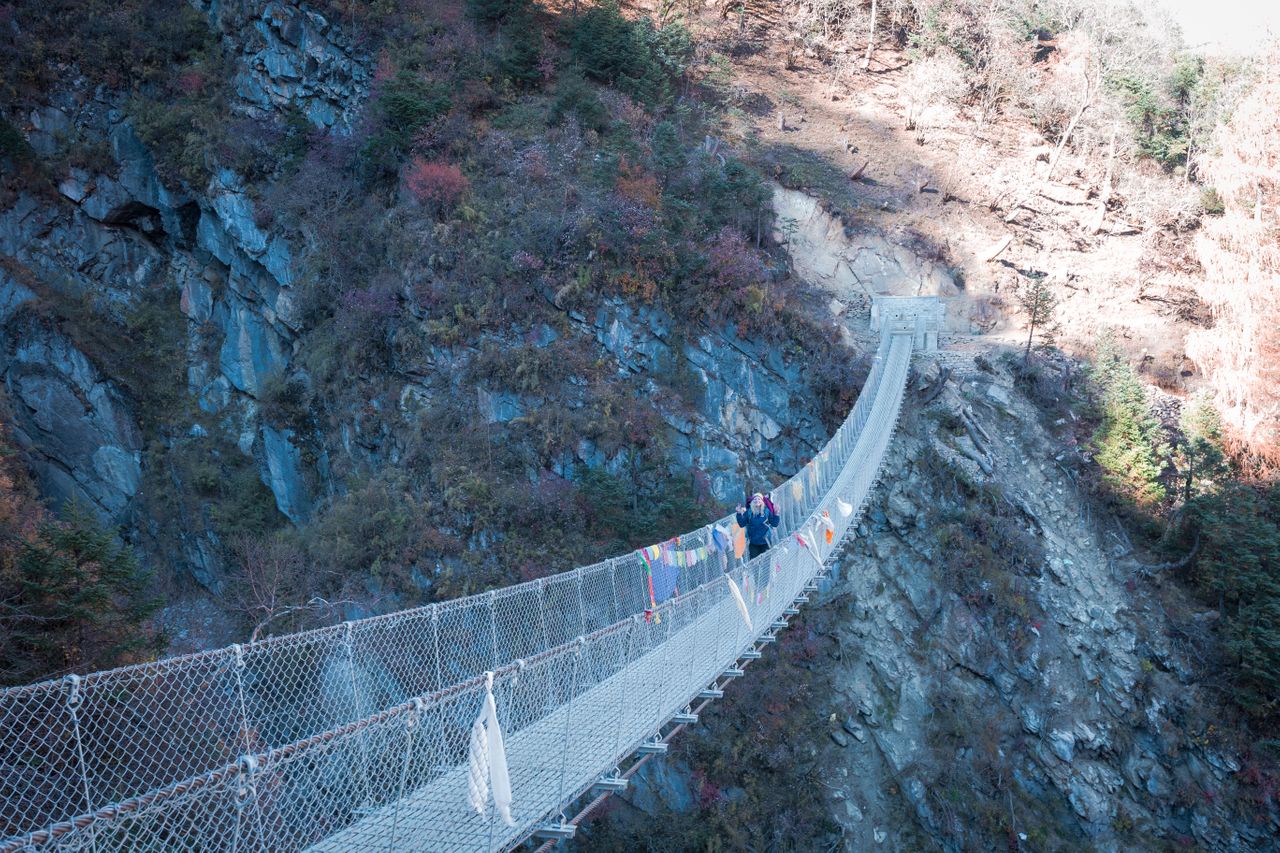 "The Hollow bridge that was full of excitement."
While on the route to Soti Khola, the porter actually expressed his regrets. The trail was testing his limits. He expressed it to Ram. Throwing the load, he said he'd never come to this trail again. As I came to know this, to keep his spirit up I use to give special preference to his diet. In order to keep him encouraged.
Now Kelsie brings out this camera of hers. I'd never seen a camera like that. She fixes up the lense and starts to shoot. She asked me to turn around and she clicked. That was the first phot of the Rustic Himalayan. Actually we did click one group photo before when headed out for the trip.
The landscape of this place is a bit humid as it's the low lands. Probably 700 meters not more than that and neither less. The ascending begins. The trail begins to play with your mind. It's all but uphill. The trail just leads you up, up and up.
"A view of Soti Khola."
As we were heading, Kelsie was clicking pictures and Ally was a different kind. How? I shall explain. She had this peculiar way of holding on to the straps of her bag, head down and basically following the foot trail of the person who is ahead of her.
Dave had his earphones and was walking playing music so I thought. I was a bit concern for the safety as the way was steep. But to my surprise he was moving to the Netherlands and was listening to the audio book in Dutch to sharpen his command over the language.
I and Dave were ahead. Ram (The Guide) was leading the rest of the group. Me and Dave started running on the trail and I personally don't like to load the porter with my luggage. I was carrying it myself. We took big jumps. There wasn't any exact trail. We encountered a gorge. The water there was so clean that Dave filled his bottle, didn't require any purification pills and just started to drink. We were heading to Manaslu, for that we had to reach the Tsum Valley first. Tsum Valley is divided into parts; lower, upper and then again lower Tsum Valley. Then comes lower Manaslu and Upper Manasalu. So that's how it goes.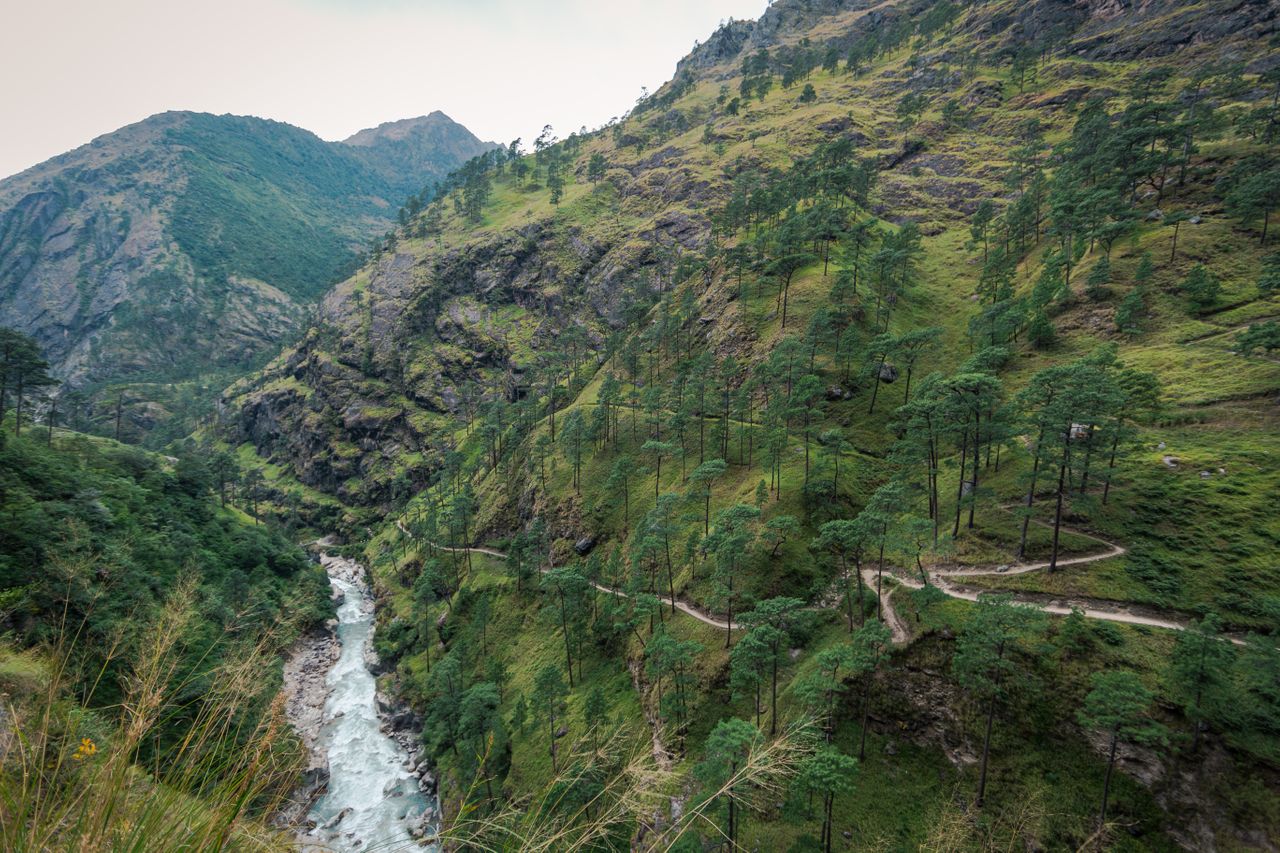 "Chasing the Trail."
That day we reached Maccha Khola. We had our lunch and took some rest. In the meantime, Shalom and Jimmy (Production guys) got their drones and were capturing some footage.
The Messup
What's a trip without a few memories and experiences right? Here I share you one of those. The very first day an incident occurred. We came to know about it on the second day, on our way to Macha Khola. We had our breakfast and started on our trek.
As we arrived in Macha Khola we checked into a hotel. Ram our guide got the rooms sorted. One room for Dave, one room for the ladies, I, Jimmy and Shalom in one room and one room for the porter and guide. We are all settled and we freshen up.
Dave comes up to me and says, "Rajat, I left my passport in Soti Khola!" I was stunned. For a while I was taken aback. Something unexpected had happened. It was a very tense scenario. It had started to get dark. Being a tour operator and a team leader one has to take a decision.
The day we were at Soti Khola, I had an interaction with the hotel owners. We exchanged business cards as well. It just clicked me. I called them. Since it's a remote area, I wasn't sure if we could establish a connection. I kept at it yet the call wasn't being established. Ram read the situation and came to ask what the matter was. I told him, he too was taken aback and started making faces. I took him aside so that it wouldn't panic Dave.
I approached the hotel owner at Maccha Khola, where we were staying, if he knew the hotel owner at Soti Khola. Fortunately, he knew and said the phone number has been updated. I was wondering in utmost displeasure, so what's the point of exchanging business cards?
We called the hotel owner at Soti Khola. Dave hadn't just left his passport there but had left some cash as well. Dave had placed his passport and cash inside the pillow cover. We got lucky because no other tourist had arrived in the hotel we left at Soti Khola. We requested the hotel owner to keep the belongings safe at Soti Khola.
As we were taking the tour of the circuit we wouldn't be making the same route again to Soti Khola. With that we only had two options; either someone gets the belongings to us or vice versa. I didn't want to rely on the mediums through which we could get the belongings rather I'd wanted us to get it. I consoled Dave that the passport has been found and we would retrieve it. We were on a very firm itinerary; we couldn't compromise with it. It's between me and Ram, I couldn't let anyone do it but us.
Ram has his way of speaking English. He wasn't exactly good at it. He would break sentences in order to Communicate with the guests. So it would take time for the guests to understand and talk to him. He was innocent, goofy and funny but I couldn't let him by himself with the guests.
So it's Ram. I asked him to retrieve the passport and the cash the next morning. We were at Macha Khola heading to Jagat next morning. Now Ram had to go back to Soti Khola come back along the way, pass Macha Khola and meet us at Jagat the very same day we reach there. Meaning, he had to cover the distance in a day we covered in almost three days. It was a huge task.
The next morning as we got up, I asked Ram to have breakfast and a strong coffee. I gave him money for the food while on the way. Then he made his way to Soti Khola. Also I asked him to give luggage to Sanjay (Porter) so that he could be a little faster in his pursuit.
We headed for Jagat. Dave wasn't feeling right for obvious reasons. We reached Jagat in the evening. I was worried for Ram. It was bit of a low time during the trek. While on the way to Jagat we clicked pictures and I asked them to smile for the picture, saying "Cheese", "Smile". Also hoping that it would ease the situation.
While in Jagat, Dave started to have a conversation with Kelsie and Ally. The ladies were let down, feeling for Dave. Jimmy and Shalom were busy capturing footage and Sanjay needed a well-deserved rest. I had to do something to ease the situation. I told Kelsie and Ally that I had Jenga. It excited them, Jimmy and Shalom joined too. Dave was back with his book – The Sapiens. After a while Dave joined too. Dave had his mind distracted. He was playing Jenga but at the same time he was looking at the way hoping Ram would show up. The desperation grew with each passing moment. It was already 7 in the evening. It was dark already.
I normally don't call home while I travel. But I felt like calling that day. I greeted my mother and told her where I was at. I joined the game again. As the game was coming to a halt, we saw a red light afar. It was Ram's headlight. Everyone saw that and everybody were like "that's Ram, Ram's arrived!" For an instance it felt like God Rama had arrived in the form of Ram.
Ram was very tired as he reached. He straight ahead went to Dave and handed him the wallet and the passport. Dave was pleasantly surprised and at the same time stunned. Dave knew the trail and understood what Ram had done was extraordinary. He hugged Ram. Whereas Ram here was moreover worried if everything was perfectly retrieved. He was asking Dave to check if everything was okay. Dave acknowledging what Ram had done, he handed over a certain amount of money to Ram. I don't know how much but he did.
It was a happy moment. We were back to playing Jenga. We taught Ram to play Jenga as well. He was surprised and amazed to see what this game was like. Kelsie explained but Ram couldn't comply so she just said, "ahh never mind" and we went on. We had a good dinner and we went to our rooms. Just before I got to my room, Dave came up and showed his appreciation. I told him it was our job and we wished one another Good Night. That's how the third day of the trek came to an end in Jagat.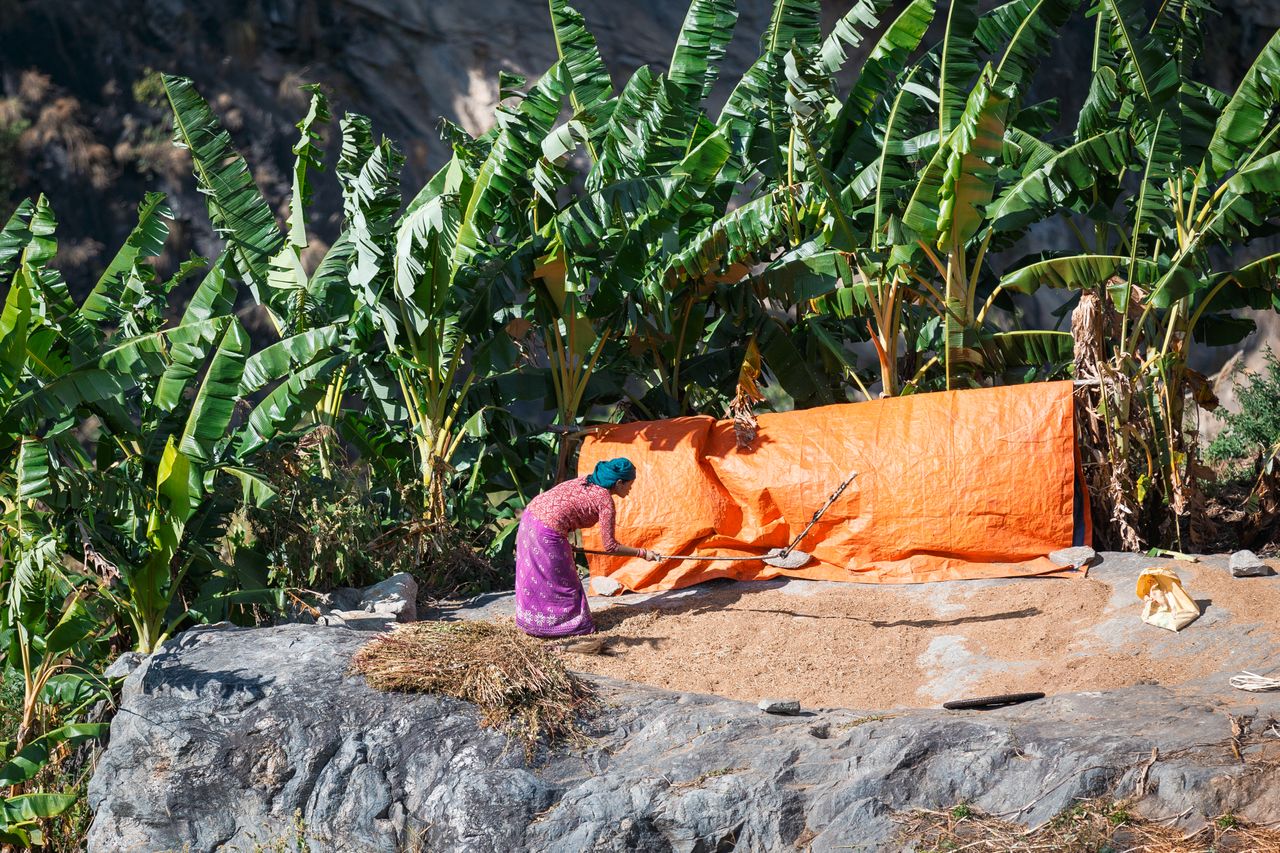 "Machakhola, The Lifestyle - A Lady beating harvested wheat."
Written by Jai Pradhan.