#Niley to Mugumpa to back to Chhokangparo
Mugumpa is actually a monastery. It's a very remote area. The monastery is huge. The place is such that you would want to take amenities for rest of the year if you are staying there and not do back and forth. Once you are you are there. The place is basically run by the monks. They would cook and manage everything for us.
We reached Mugumpa before time. So we thought of taking a look around. There was shimmering ray of the sun that afternoon. I had my half pants on. We were probably on 3500- 4000m of height above sea level. Ganesh Himal was looking majestic. We could see the mountain belt clearly. I took a bath there in that cold weather with the cold water.  Kelsie and Ally had a term for me "Crazy Nepali Bastard".
I asked them to take a bath, wash clothes if they wanted to but they didn't. Shalom and Jimmy washed their feet.
Later the weather changed quickly. Also the sun went down early. It got really cold. We had only come out of the hotel and we encountered this beautiful creature, a wild horse. That's what I'd like to call it. It's fur and the white color of its skin was really mesmerizing. We were amazed, where this creature came from. Kelsie had her camera and she captured the animal through her lenses.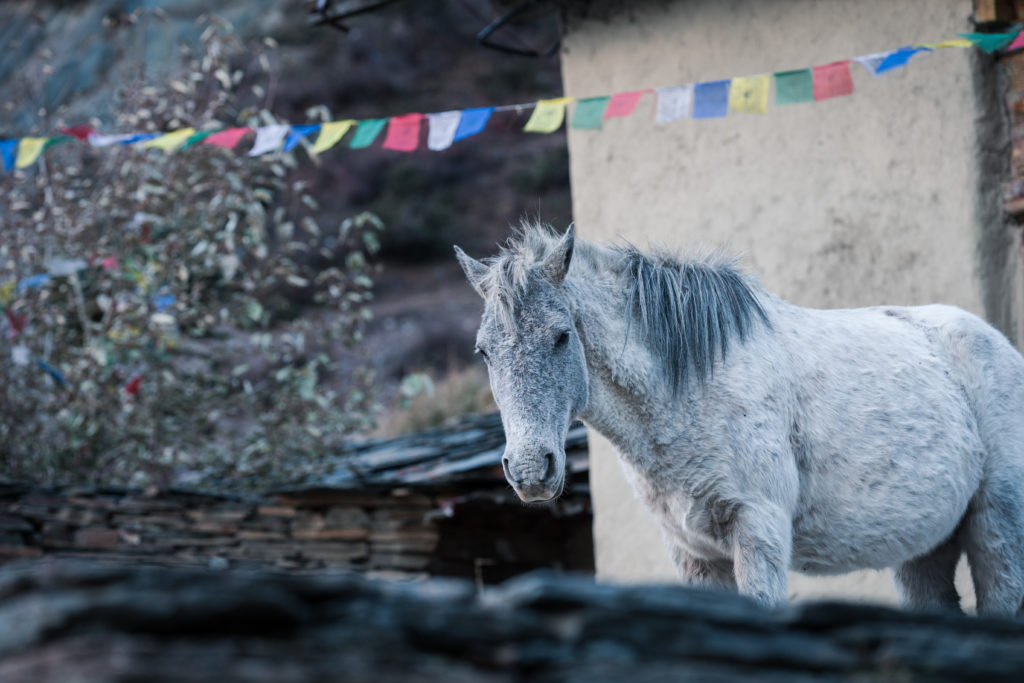 I was in doubt whether the taste of food of the monk's making would match to ours. That's when Ram came handy. That night, Ram made all the food Rice, Lentil Soup, potatoes. He was the chef that day. Yes, it was basic but for the place we were at that was luxury.
We had already reached the Upper Tsum Valley. While having dinner, we were having talks and I told them we head back to lower Tsum Valley and then Manaslu. We were yet to embark on our main trail. Everybody was pumped up and excited. I asked if anybody has any problems with their body. No one did fortunately. We were on our sixth or the seventh day of the trek.
The next morning, we met the Lama. We had about 15 minutes of conversation. Even the Lama didn't have any idea about the monastery's history. There were a few European people who would visit the place once every year. They follow Tibetan apparently and whenever they did visit they would make a sizeable donation without anyone knowing about it. With the talk ending there, we left back for Chhokangparo.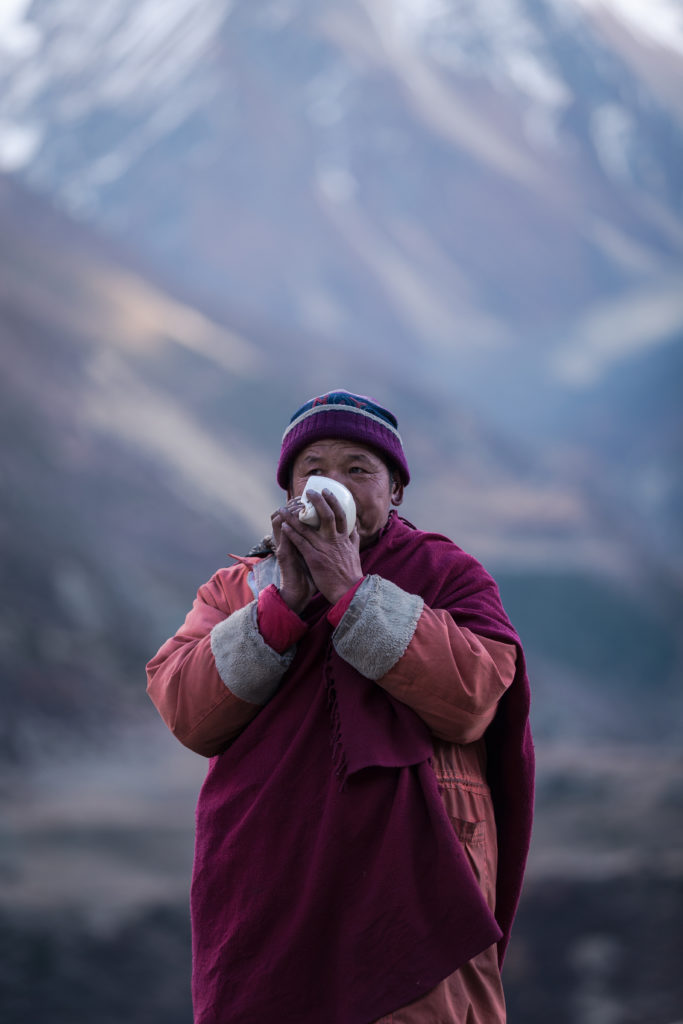 #Gumba Lungdang (9th day)
We come to Gho again descending from Chhokangparo, where we had our lunch previously. From Gho the regular route takes you to Lokpa, from Lokpa to Jagat and then Manaslu. Since we had time like I mentioned earlier.
We took the path that headed towards the left from Gho which would lead us to Gumba Lungdang. Now remember we were descending. Therefore, while ascending Lokpa, it felt a real task. It makes me think how we ascended Gumba Lungdang which was much tougher than Lokpa's trail.
Gumba Lungdang basically had nothing, nothing at all. No hotels, no shops; just a remote place. Courtesy of the earthquake everything was destroyed. Nothing but rubbles. There was no question of returning back. Two small houses made of mud existed. In one of those houses, the three nuns lived. There were three other Swedish tourists with a guide. The nuns did provide tents which were limited in numbers. It was basically on a first come first serve basis. I sent Ram right away to book the tents.
We got two tents but for the third one there was a competition rather almost a tug of war situation. Later while we were establishing the tents, the other group got the better of it. We got everything settled but Dave hadn't had enough of the trek. We'd already reached Ganesh Himal Base Camp. He wanted to see further.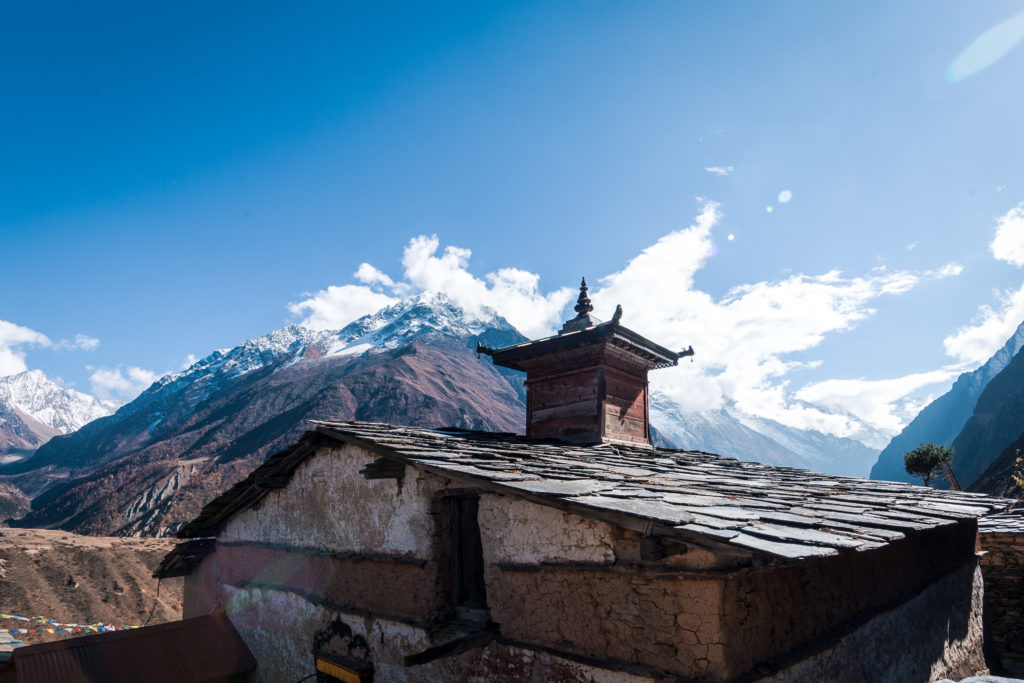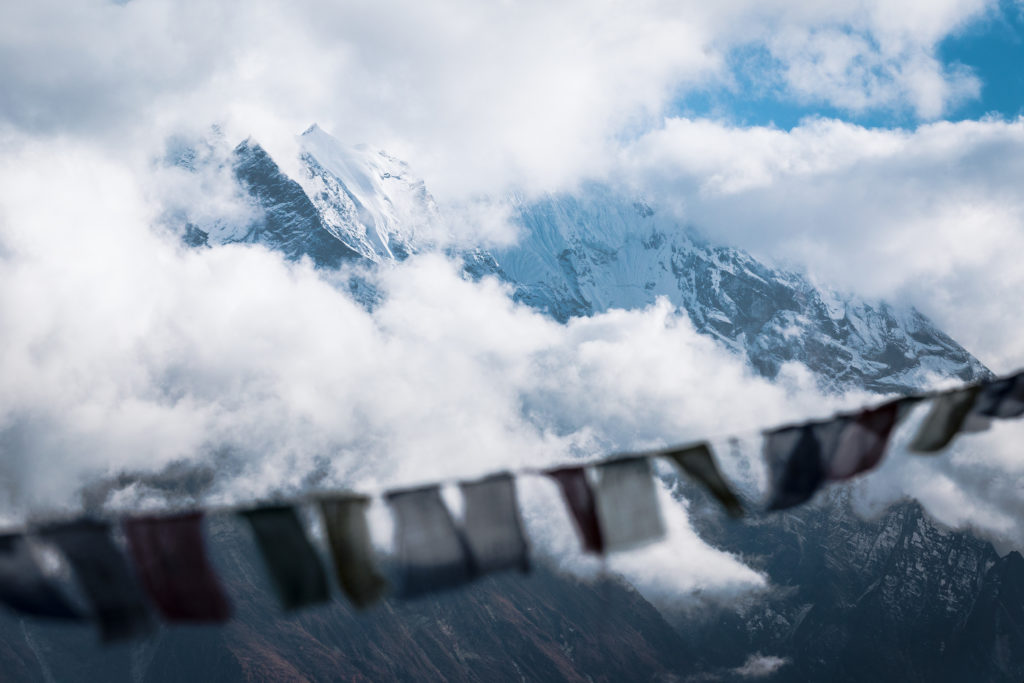 That day the ladies didn't wanted to go any further, it was just the boys who took the extra mile. We headed towards the jungle. While we had left from Chhokangparo, the owners of the hotel have this ritual of treating their guests while they left. He had given me a Chinese beer.
I'm not a person that drinks and because of the climate the beer was cold. I opened up the beer can and everybody took a gulp of it. It was a special moment. For Dave, as he was enjoying the trail, the beer was cherry on top.
We came back to Gumba Lungdang for dinner. Ram prepared the dinner with the nuns. The area so remote and the hunger that makes you feel like savoring on anything edible. Food meant so much during such times. We had lentil soup, potatoes and some rice.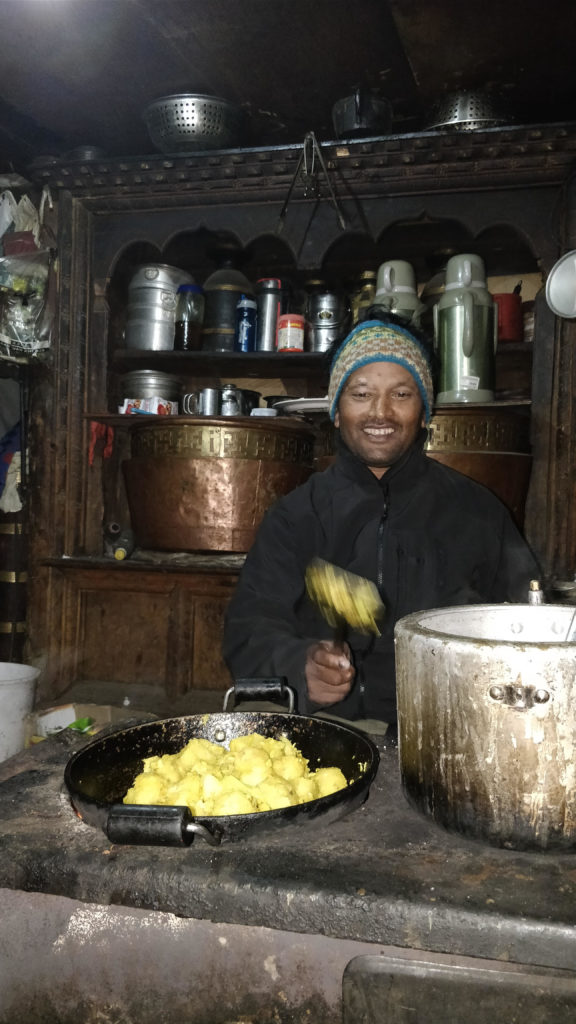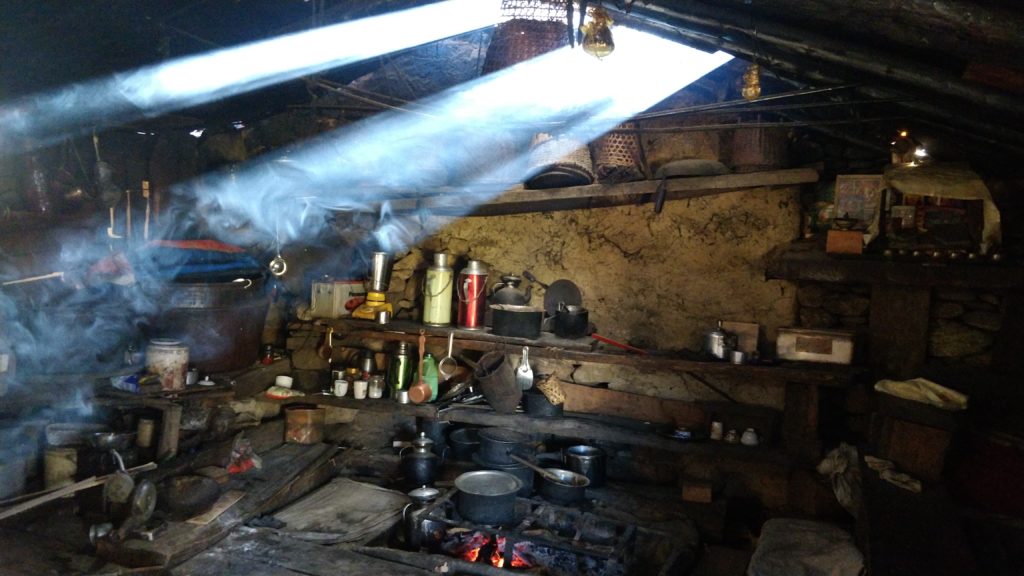 The region was at such high level, that the climate was extremely cold during the evenings. We were in the Kitchen; I saw the nun. She had wounds on her lips because of the cold. Since we travel operators have to be equipped with the First Aid, I gave her an antiseptic cream. Her happiness knew no bounds. Small gestures as these could mean so much.
She also expressed that, it had been two years since the earthquake happened and the government has shown no interest towards the region's people or the damaged infrastructures, yet the gesture we showed towards her, she considered it was really generous. She thanked us immensely.
We were going towards the tent after the dinner. The thing during these long treks is you keep on having the feeling or the need to feed your body. I felt hungry again. We reached the tent. The weather was very cold. The wind was blowing pretty hard.
Like Dave said, "cherry on top", our tent's zip wasn't working right. Basically it was an open tent. But the ladies had a good tent. We made sure that the ladies wouldn't be in any problems as such. Luckily I had a good sleeping bag, I slept towards the opening of the tent so to block the wind for my team members. I had some chocolates bought as I mentioned earlier. I took a few pieces of those and kept it in my mouth and I let it melt.
The next morning, everybody was up early. I don't think anybody had a good sleep. Shalom and Jimmy went up the trails we had taken yesterday towards the Ganesh Himal Base Camp with the cameras and tripods. They took some amazing time lapse of the first light.
We headed back after the breakfast. There wasn't any bill system there for the food and the tents. We gave the nuns a handsome amount they smiled back.
#GumbaLungdang to Chumling
Chumling lies in the lower Tsum Valley. It is the initial place that one arrives through the route we've taken. It was the end of Tsum Valley. We were very tired as we hadn't had enough sleep as well. It was already dark as we arrived Chumling. We had our dinner and all of us went to bed.
It was the eighth day. Ram (the guide) had a very busy trek so far. Therefore, as we reached Chhokangparo he took a bath, washed his clothes and got groomed. Basically he was a fresh guy after sometime which felt like a real long time.  It was somewhat like a favor to the entire Tsum Valley.
The day eventually came to an end. It was a regular casual trek day. We had a good dinner that night, really tasty. The next day was tough.
Written by Jai Pradhan.